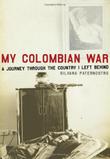 ---
"A conflicted memoir of bodegas, bullets and a country tearing itself apart from within."
---
A Colombian-born journalist returns to her homeland in an attempt to reconcile her own past and her country's chaotic present.
Read full book review >
---
"A worthwhile look at some unexpected aspects of gender and the AIDS epidemic that should prompt other, more comprehensive and neutral studies of Latin American sexuality."
---
Paternostro, a fellow at the World Policy Institute and a journalist whose work has been featured in the Washington Post and various other publications, travels throughout Latin America to research this arresting but unpolished book on gender, sex, and AIDS.
Read full book review >