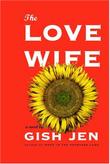 ---
"Well wrought and admirably tough-minded, though readers charmed by Jen's earlier, easier work (Mona in the Promised Land, 1996, etc.) may find this one more of a challenge."
---
---
"In tracing the (guardedly triumphant) struggles of one young woman to be herself, borrowing from a variety of traditions without being constrained by any of them, Jen gives us an affecting story- -precise, often very funny—and a wonderfully idiosyncratic heroine."
---
``American means being whatever you want,'' the intensely bright and high-spirited protagonist of Jen's second novel (after Typical American, 1991) declares to her mother early in the narrative, and this droll, moving work presents an unsparing analysis of the allure and tolls of that freedom.
Read full book review >