Book of the Month, the nearly century-old literary subscription service, has named Kristin Hannah's historical novel The Four Winds as its Book of the Year.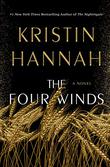 Hannah becomes the sixth author to take home the Lolly award, named after Book of the Month's very first selection, Sylvia Townsend Warner's Lolly Willowes.
Hannah's novel, published in February by St. Martin's, follows 15 years in the life of a woman who moves from Texas to California during the Great Depression. A critic for Kirkus called the book "for devoted Hannah fans in search of a good cry." 
"To think that my novel is not just a Book of the Month selection but to know that the members loved it well enough to make it the Book of the Year is a great honor," Hannah said. "I never dreamed that my career would soar to these levels, and feel an incredible sense of gratitude." 
Hannah beat out four other finalists for the Lolly: S.A. Cosby for Razorblade Tears, Emily Henry for People We Meet on Vacation, Sarah Penner for The Lost Apothecary, and Taylor Jenkins Reid for Malibu Rising.
Book of the Month has been awarding the Lolly since 2016. Previous winners have included Madeline Miller for Circe, Reid for Daisy Jones the Six, and Brit Bennett for The Vanishing Half.
Michael Schaub is a Texas-based journalist and regular contributor to NPR.