Jenna Bush Hager is celebrating the second anniversary of her Today show book club with two historical novels as her latest selections.
Hager announced Monday that her club would read Send for Me by Lauren Fox and The Four Winds by Kristin Hannah.
"A lot of you have been asking for a historical fiction pick, so this month, we chose two," Hager said.
Send for Me, slated for publication by Knopf on Tuesday, follows a Jewish woman who escapes from Nazi Germany, and her granddaughter, who discovers her grandmother's letters decades later. A reviewer for Kirkus called the novel "an intimate, insightful, intricately rendered story of intergenerational trauma and love."
A New York Times books editor suggested Fox's book to Hager, she said. The second selection was chosen by her book club members, a first for Read With Jenna.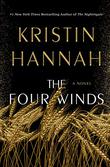 Hannah's The Four Winds, which will be published by St. Martin's tomorrow, tells the story of a Texas family during the Great Depression.
"I've been reading with you guys since the beginning, and I've loved all of the Read With Jenna books," said book club member representative Priscilla Delgado. "Four Winds is breathtaking and beautiful. It is something everyone will be talking about. I'm excited to be reading with y'all."
Michael Schaub is a Texas-based journalist and regular contributor to NPR.