The New York Times unveiled its list of the 10 best books of 2020 on Monday, with former President Barack Obama, Brit Bennett, and Ayad Akhtar among the honored authors.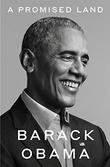 Obama's A Promised Land, which was published to near-unprecedented hype last week, was one of the five nonfiction books on the list, with the Times praising the former president as "an easy, elegant writer."
The top 10 list was announced during a live online presentation introduced by actress and author Mindy Kaling and hosted by Pamela Paul, editor of the New York Times Book Review.
Other nonfiction books making the list were Robert Kolker's Oprah-approved Hidden Valley Road: Inside the Mind of an American Family, James Shapiro's Shakespeare in a Divided America: What His Plays Tell Us About Our Past and Future, Anna Wiener's Uncanny Valley, and Margaret MacMillan's War: How Conflict Shaped Us.
Bennett's The Vanishing Half and Akhtar's Homeland Elegies were among the five fiction books cited by the Times. The newspaper called Bennett's book "a provocative meditation on the possibilities and limits of self-definition" and said that Akhtar's novel "can read like a collection of pitch-perfect essays that give shape to a prismatic identity."
The other fiction books to make the list were James McBride's Kirkus Prize finalist Deacon King Kong, Lydia Millet's National Book Award finalist A Children's Bible, and Maggie O'Farrell's Hamnet.
The Times list is short on surprises but long on books released by the Big Five publishers: Only one of the books, Millet's novel, was published by an independent press.
Michael Schaub is a Texas-based journalist and regular contributor to NPR.