Reese Witherspoon is taking her book club to the Old West.
The actor and producer has selected Anna North's novel Outlawed as the latest pick for her club.
"Our January Reese's Book Club pick is a WILD one!" Witherspoon wrote on the club's website. "Centered around a fugitive on the run, Anna North's Outlawed is a riveting story unlike anything I've read before! This feminist Western will keep you on the edge of your seat on a high stakes ride through the old West."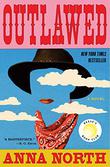 North's novel follows a young midwife who joins the Hole in the Wall Gang after leaving her family. A reviewer for Kirkus said the novel "earns its place in the growing canon of fiction that subverts the Western genre by giving voice to the true complexity of gender and sexual expression, as well as race relations, that has previously been pushed to the margins of traditional cowboy or westward expansion tales."
In an interview last year, North told Shelf Awareness that the American West proved to be a fitting setting for her novel.
"I started thinking about the West as a space of, sometimes, freedom around gender and sexuality," North said. "The western states were some of the first states to give women, mostly white women, the right to vote. This could be a space of freedom—and obviously it's also a space of colonization and genocide and unfreedom. There were interesting interplays there."
Witherspoon launched her book club in 2017. Previous selections include Heather Harpham's Happiness, Laurie Frankel's This Is How It Always Is, and Edwidge Danticat's Everything Inside.
Michael Schaub is a Texas-based journalist and regular contributor to NPR.