The book world loves to shower attention on young talent. And who can blame us? The prospect of finding a debut author in their 20s, poised on the cusp of a long, fruitful career, is irresistible. Just think of the acclaim that greeted Zadie Smith, just 25 years old when she published White Teeth in 2000. No flash in the pan, Smith has gone on to write four well-received novels, a collection of stories, and three essay collections.
Similarly, a generation later, Sally Rooney captured critical attention with her 2017 debut, Conversations With Friends. In the four years since, Rooney has already published two more novels, including the just-released Beautiful World, Where Are You (Farrar, Straus, and Giroux, Sept. 7). In a starred review, our critic calls it a "novel of capacious intelligence and plenty of page-turning emotional drama"; I predict we'll be reading Rooney's fiction for years to come.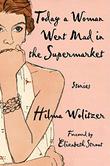 But can we pause and pay tribute to the older writers still producing work into their 80s and even their 90s? I ask because I am currently reading Today a Woman Went Mad in the Supermarket (Bloomsbury, Aug. 31), a career-spanning collection of stories by Hilma Wolitzer, age 91. The title story dates back to 1966, but Wolitzer caps off the book with "The Great Escape," written last year and set against the backdrop of—she really went there—the pandemic. Leave it to this thoroughbred fiction writer to tackle the impossible subject and pull it off beautifully. "The Great Escape" is the last of several stories to feature Paulie and Howard—a couple we follow through an unplanned pregnancy, infidelities, insomnia, and depression—and it's a beautiful, funny, heart-rending portrait of marriage. "We had been together for such a long time that all of our grievances had been set aside, if not completely forgotten," observes Paulie. Our starred review praises these "13 timeless stories of what goes on between men and women, grounded in an optimism that is no stranger to sorrow.…Wolitzer takes our breath away."
Wolitzer isn't the only literary elder with a book out this fall. The great Wole Soyinka, Nobel Prize–winning author from Nigeria, will put out his first novel in nearly 50 years, Chronicles From the Land of the Happiest People on Earth (Pantheon, Sept. 28). Soyinka is 87, and if he hasn't published fiction in decades, his abilities are undiminished, spinning out what our critic, in a starred review, calls a "richly satirical…shaggy dog yarn, its plot dense enough to rival anything by Günter Grass." The story centers on two friends—Dr. Kighare Menka, a surgeon, and Duyole Pitan-Payne, an engineer—in a fictional Nigeria teeming with child soldiers, Boko Haram terrorists, corrupt politicians, and self-styled holy men. "Dazzling wordplay and subtle allusion mark this most welcome return to fiction," says our reviewer.
These books by Wolitzer and Soyinka join a substantial shelf of fiction by writers in their 80s and 90s that has been published this year, including Jerome Charyn's Sergeant Salinger (Bellevue Literary Pres, Jan. 5), Orville Schell's My Old Home (Pantheon, March 9), and Diane Johnson's Lorna Mott Comes Home (Knopf, June 29). Leading the pack is Cynthia Ozick, age 93, whose novel Antiquities (Knopf, April 13) is narrated by a patrician elderly trustee of the fictional Temple Academy for Boys, reflecting on his time at the school and his charged friendship with Ben-Zion Elefantin, a Jewish boy.
Ozick is still firing on all cylinders. When the New York Times published a mixed review of the novel by Lionel Shriver (Whatever her age, she can take it," Shriver concluded), the author dashed off a letter to the editor—in the form of a poem. "No prob—the writer can take it," she swaggered. That's pretty OG.
Tom Beer is the editor-in-chief.