Michelle Zauner's hit memoir Crying in H Mart will be adapted into a film by MGM's Orion Pictures, the Hollywood Reporter reports.
Zauner's memoir tells the story of her relationship with her mother while she was battling cancer, and how it caused her to connect more deeply with her Korean heritage. A critic for Kirkus gave the book a starred review, calling it "a tender, well-rendered, heart-wrenching account of the way food ties us to those who have passed."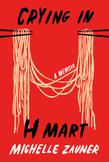 Zauner, the indie rocker who performs under the name Japanese Breakfast, will provide the soundtrack for the movie, and will also write the screenplay.
"It is a surreal thrill to have the opportunity to memorialize my mother in film, and I consider it of the highest honor to pursue that task alongside creative luminaries such as [producers] Stacey Sher, Jason Kim and Orion Pictures," Zauner said.
In an interview with Kirkus, Zauner said her book was spurred by an "authentic sense of urgency to investigate what I was feeling."
"I...wanted to warn people about what dying actually looks like," Zauner said. "I had felt so unprepared for the experience of caretaking [for my mother] and cancer and death. I felt like I'd never read what it looks like in horrifying detail to watch someone go through this."
Michael Schaub is a Texas-based journalist and regular contributor to NPR.